Before the world began to clamp down on events due to COVID 19, I had the extreme pleasure to fly to sunny San Diego to attend and present at REEF By the Sea at the Scripps Institution of Oceanography in La Jolla. I've never seen the campus before and it is one of the premier educational and research facilities in the United States.  I also got to spend time with family friends and loved ones, Chris and Emily Liebenberg and their two sons. This was extra special!
We began on Friday with a tour of the SIO Collections with Manager, Ben Frable. It was a fascinating tour through the rows of specimans along with an enjoyable talk by Ben.  Who knew they had a blob fish!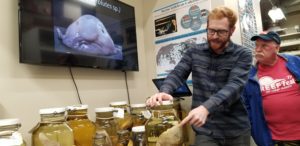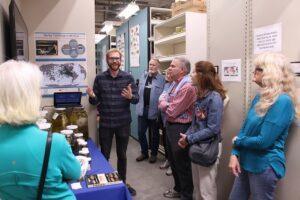 Low tide was at 1:23 PM and what a fun time exploring the tide pools with Emily and her youngest son along with the rest of the curious attendees. Sunshine and beach made me feel energized!
The evening was spent at the home of Brice and Christy Semmens where there so many long-time friends of the ocean world and new connections and friendships.  It was wonderful to see Michele Hall along with a very special couple, Ned and Anna DeLoach.
The following day, presentations were given to update us on the recent conservation successes by REEF.  Thirty years ago, I lived in Miami when REEF was first organized. Since moving to my current home in Washington State, I lost some connection with the organization and now I'm filled with hope and joy as to the accomplishments!!!  A lovely break for cocktails and hors d'oeuvres, the Sea Keynote speaker, Rick Bonney, Director of Public Engagement in Science from Cornell Lab of Ornithology, cemented that programs engaging in bird counts are not much different to those from REEF who monitor and count fish species in many locations. One program I'm definitely going to check out is a website titled eBird .
Sunday was a day of presentations at the stunning Martin Johnson House.  It included my presentation titled "Decades of Discovery – Papua New Guinea" which is my favorite topic. I not only spoke to the diversity of marinelife along the island nation's coastline but the diversity and connection to the communities that inhabit the shores.
The following presentation by Dr. Milton Love – "Certainly More Than You Want to Know About The Fishes of The Pacific Coast" and Dr. Joshua Stewart – "Protecting Gentle Giants:  Manta and Devil Rays" had the complete attention of everyone in the audience.
Thank you to all who participated and attended REEF By the Sea!  And a huge shout of gratitude of appreciation to the organization for including me!  This is a valuable non-profit to support and you can do that here!